Sourcing
Every operational piece of Mental Houseplants has been considered and optimized in order to provide the most benefit to the most people. Our company is built on the founding principle of making the world a better place. To us, that means focusing on sustainability as much as possible, empowering others, and being the positive change we wish to see in the world. Choosing our suppliers was no exception. For us to feel comfortable working with a partner, they had to share similar goals and values. Read more below to discover why we sourced our products from our chosen suppliers.
Sourcing Houseplants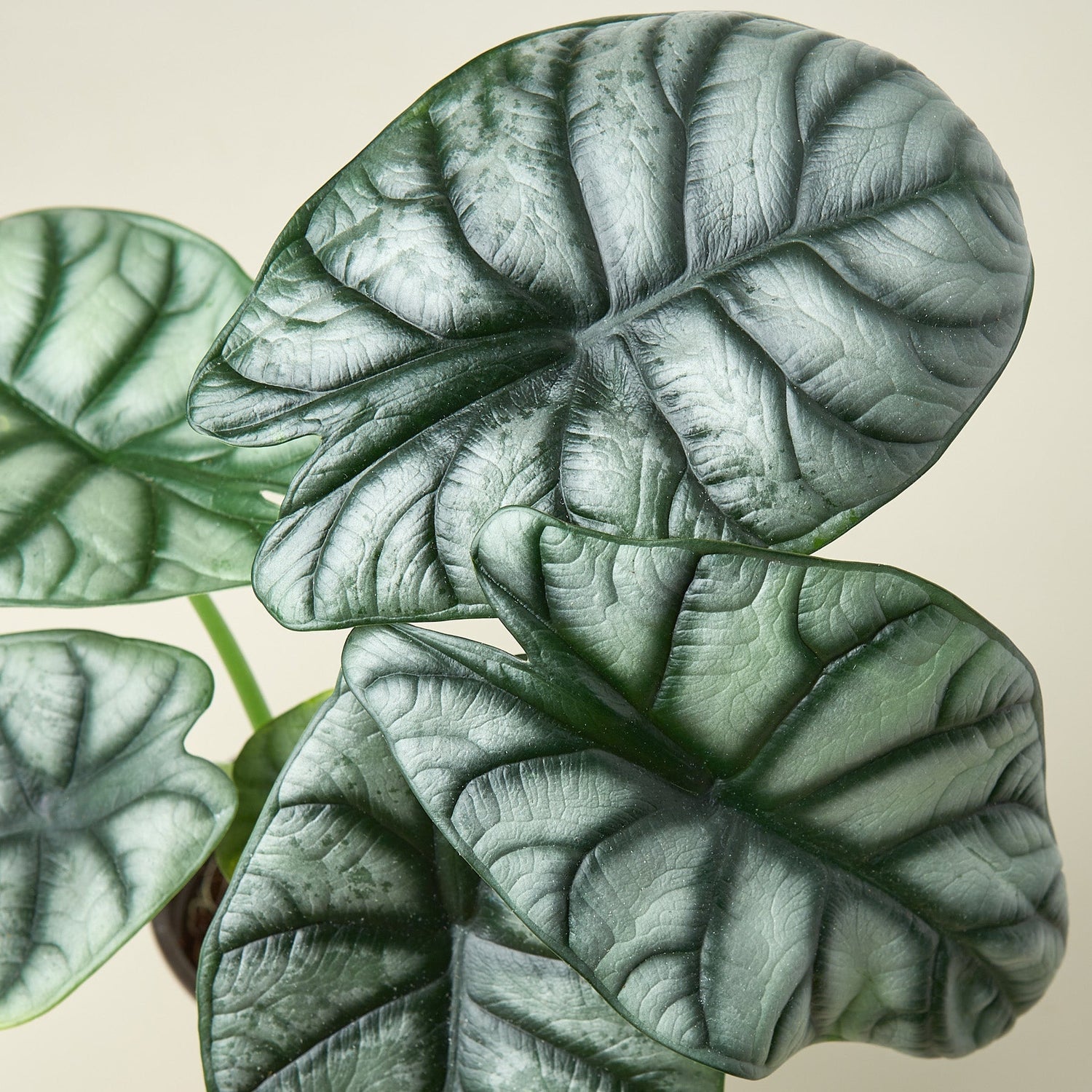 Sustainability First

At Mental Houseplants, sustainability is at the forefront of everything we do. We understand that every decision we make has an impact on the environment, which is why we prioritize sourcing from local growers who are located under 150 miles from our suppliers' greenhouse. This means that there's a significant reduction in vehicle emissions, as the plants don't have to travel as far to reach us compared to those sent to large retailers.

Not only is this better for the environment, but it also means that our plants spend less time in transit, resulting in fewer damaged or wasted plants. We're proud to say that our commitment to sustainability has allowed us to reduce our carbon footprint while still providing our customers with the highest quality plants possible.
Supporting Local Farmers

At Mental Houseplants, we believe that supporting the right people is just as important as sourcing the right plants. That's why we work exclusively with small, family-owned farms that have been producing high-quality foliage for over 60 years. These growers are located in Florida, right next to our suppliers' greenhouse, which means that we can be sure you're receiving the freshest and most beautiful plants possible.
Increased Wages For Farmers

Our commitment to supporting small businesses goes beyond just providing exceptional plants. By partnering with these growers, we're able to help them earn twice as much income as they would by selling to larger retailers. This not only helps these families to sustain their businesses but also allows us to contribute to the local economy in a meaningful way.

We believe that the choices we make as a company can have a positive impact on the world around us. By supporting local growers and sustainable practices, we're doing our part to create a more just and equitable world. So when you buy a plant from Mental Houseplants, you're not just getting a beautiful addition to your home – you're also supporting a community of hardworking farmers who are committed to producing the finest foliage in the industry.

Sourcing Print On Demand Apparel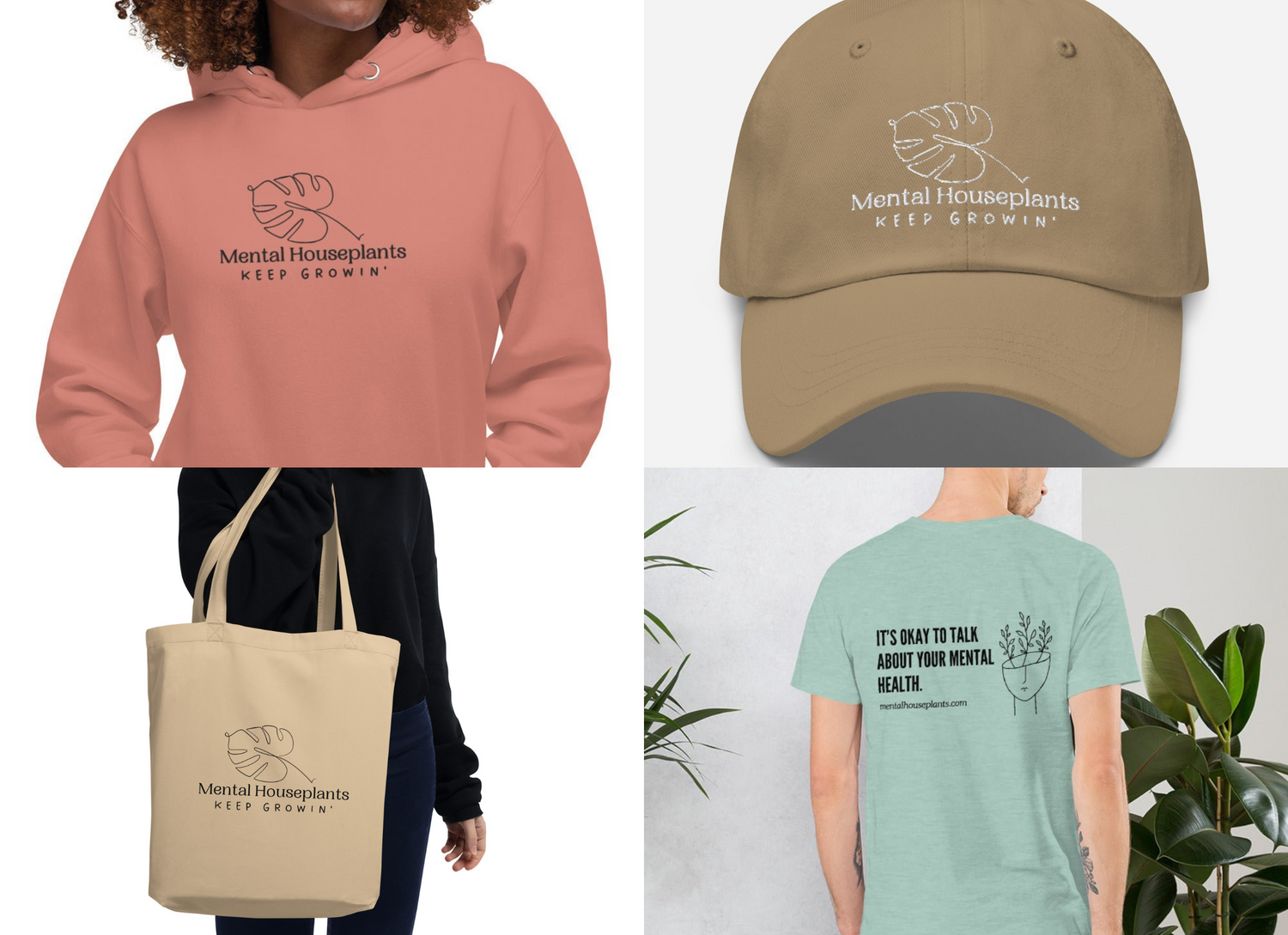 Sustainability Journey

Our Print on Demand Supplier understands that sustainability matters to customers, businesses, and the world. So they are taking one step at a time to becoming more sustainably responsible with each print. Here is a timeline of their sustainability efforts:

1. August 2020
Switched to triangle poster boxes without plastic caps

2. January 2021
Partnered with Geocycle and Martex to process fabric waste

3. February 2021
Launched their first recycled all-over print product

4. January 2022
Partnered with Sedex, an ethical trade service provider

5. March 2022
Published their Code of Conduct

6. April 2022
Strengthened their definition of an eco-friendly product

7. March 2023
Introduced natural certified skincare products
Sustainability for the Planet

Each buying decision, whether significant or minor, impacts the environment. Your choices determine the magnitude of that impact, and our goal is to guide you in making conscious choices.
->Twenty percent of clothing items end up in landfills without ever being worn.
->Opting for print-on-demand means you're selecting clothing that's produced only upon receiving an order, resulting in reduced textile waste compared to traditional production methods.
Since May 2021, they've transitioned to using packaging made from post-consumer recycled (PCR) plastic for all clothing orders dispatched from their primary facilities. This initiative aims to reduce their environmental footprint, as utilizing recycled materials conserves raw resources and demands less energy in production.
->They're now amplifying the recycled content, aiming to transition to packaging composed of 90%–100% post-consumer recycled (PCR) plastic across North America.
->Additionally, They've decreased their overall packaging usage and introduced triangular cardboard containers for posters, phasing out the tubular packaging with plastic caps.
Approximately 84% of Printful orders are dispatched and received within the same region. Operating fulfillment centers in proximity to the clientele benefits both our business and the environment. Having these centers strategically positioned ensures quicker delivery times and decreased shipping expenses. Moreover, it contributes to a reduction in CO₂ emissions associated with order transportation.
Reducing Overproduction Waste

High-quality products tend to last longer. Before introducing new items, they conduct durability assessments to ensure their longevity. They collaborate with suppliers known for their premium-quality items that endure numerous wash cycles, retaining vivid print colors and maintaining fabric softness.
Clothing items in their environmentally-conscious range contain a minimum of 70% organic, recycled, or a combination of such materials.
->To confirm the composition of materials, they obtain official certificates from our providers. For clothing items' organic content, they recognize only GOTS or OCS certifications. When it comes to recycled content, they acknowledge GRS or RCS certificates.






Sustainability Numbers

They recycled 787,524 lb. of products in 2022
They saved and repurposed 19,637 sq. ft. of fabric scraps in 2022
84% of their orders were fulfilled and shipped locally
Sourcing Made In France Apparel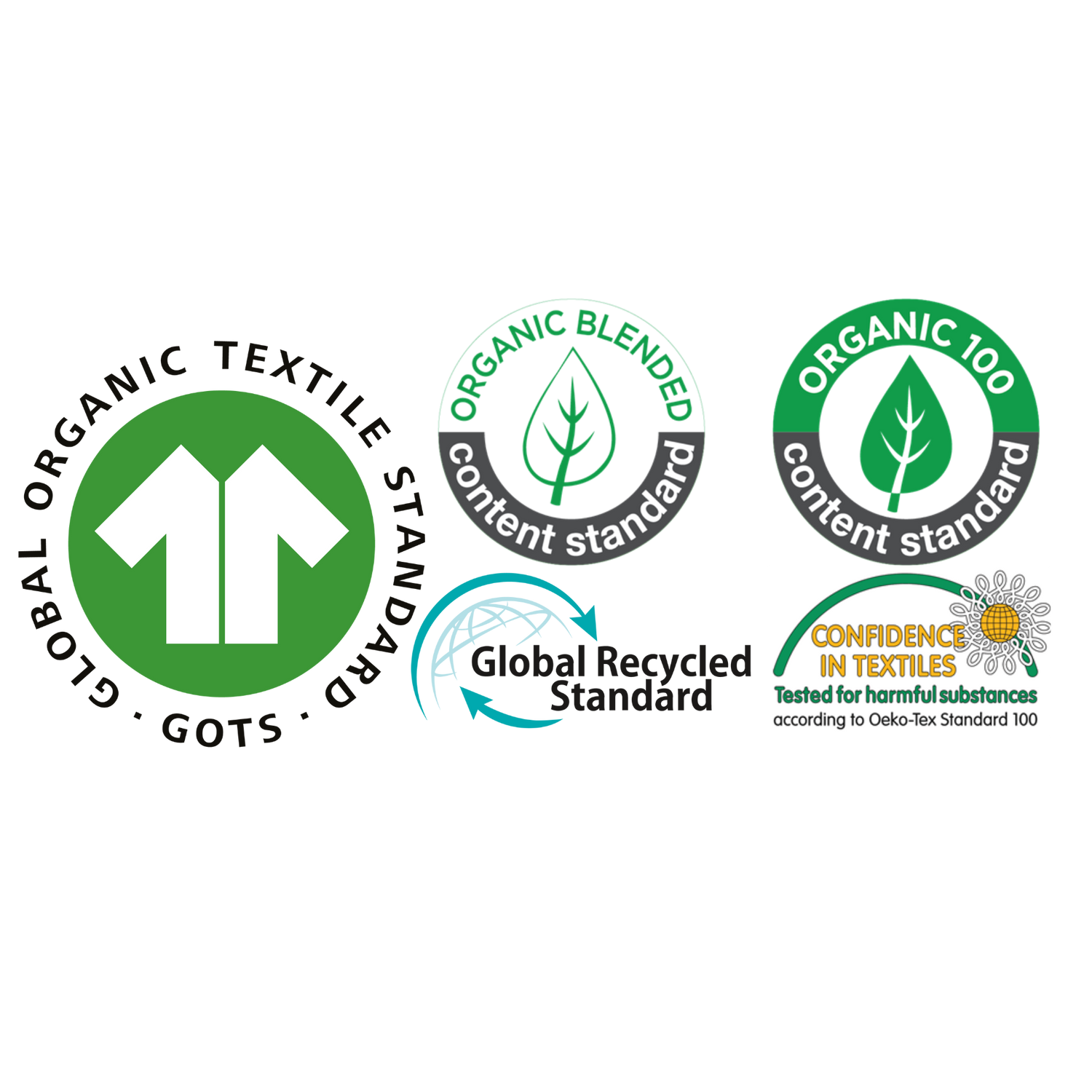 Standard Of Ethics & Sustainability

As a company, we're committed to ensuring every product we carry is ethically sourced and sustainably distributed. Our search for a partner that met our standards for ethics and sustainability in the apparel industry had been shockingly difficult.

Unfortunately, the clothing industry has a notorious reputation for exploiting workers, providing unethical working conditions, and knowingly wreaking havoc on the environment. It took a great deal of time and research before we could confidently move forward with a supplier. Eventually, we found a supplier who is actively working towards combating these issues. The apparel we sell from our supplier is organic, vegan, & sustainable (see the sustainability section below for more information).

While learning more about this supplier, we noticed they offered limited products which were directly made and shipped from France, prompting us to research where our suppliers partner was located. After discovering the manufacturing facilities is located in Bangladesh, we assumed we would be moving on and looking elsewhere for an apparel supplier. Companies here are known to unfortunately have the same poor reputation as the global clothing industry.

Luckily, we discovered their partner is verified through the Fair Wear Foundation, which ensures companies comply with a strict code of working conditions. Therefore, we were happy to know our supplier for apparel works exclusively with manufacturers who guarantee healthy working conditions for their employees. You can learn more about the Fair Wear Foundation in it's individual section below!

From our research, it is clear our apparel supplier puts ethics, values, and transparency first. This is why we feel confident in our choice to partner with them. By doing so, Mental Houseplants helps support the movement towards a more ethically sourced clothing market which provides premium, organic, and sustainable clothing, as well as fair working conditions for the people.
Sustainable Materials

We're proud to share our supplier offers apparel made with sustainable materials, including:


1. 100% Organic Cotton
Their cotton is certified by the Global Organic Textile Standard (GOTS), which means it's grown without synthetic pesticides and fertilizers, and uses significantly less water than conventional cotton (only 40 liters of water for a T-shirt, compared to 2,700 liters for a regular cotton T-shirt). Organic cotton also helps promote healthy soil and biodiversity, and supports fair labor practices.

2. Recycled Textiles
They use a variety of recycled materials, including cotton and polyester, to reduce waste and conserve resources. These materials are certified by the Global Recycled Standard (GRS), which verifies that they are made from pre- or post-consumer waste and meet strict environmental and social criteria.

3. Vegan Based Inks
Supplier uses inks that are free from animal products and harmful chemicals and are made with water as the main solvent. These inks are certified by the Oeko-Tex Standard 100, which ensures they are safe for human use and comply with environmental standards.
Sustainable Distribution

We're proud to partner with a supplier who considers the environmental impact the companys distribution has. This includes:


1. Carbon Neutral Postal Transportation Service
Our supplier uses a shipping service that is certified carbon-neutral, meaning that the emissions from shipping your order are offset through various initiatives, such as reforestation projects and renewable energy investments. This means that you can enjoy your purchase with peace of mind, knowing that your order hasn't contributed to climate change.

2. Plastic-Free Shipping
Our supplier's products are shipped without any plastic packaging, meaning your order arrives in a packaging material that's both sustainable and biodegradable. Their decision to eliminate plastic from their packaging is part of their commitment to reducing waste and protecting the environment, an important value to Mental Houseplants!

3. Sustainable Packaging
Apparel comes packaged in premium sleeves made of either recycled cardboard or other soft-recycled materials. This ensures that your purchase arrives in excellent condition while reducing waste. Our partner company is committed to ensuring that the packaging is as eco-friendly as possible, which is why they choose to use materials that are both recycled and recyclable.

4. Sustainably Sourced Paper
Our suppliers company believes in using paper which was sustainably sourced. This is why all the invoices and other included paper in your order are guaranteed by the FSC & PEFC to originate from sustainably managed forests, ensuring your purchase has the smallest possible impact on the environment.

5. Eco-Friendly Adhesive
Our supplier uses Kraft paper adhesive for their packaging, which is both recyclable and biodegradable, meaning the packaging of your purchase doesn't contribute to the build-up of waste in landfill. One of the many ways they're working to reduce their impact on the environment.
Fair Wear Foundation

The Fair Wear Foundation is an independent, non-profit organization that works to improve labor conditions for workers in the garment industry, whose code of working conditions covers issues such:

1. Fair pay: ensuring workers are paid a fair wage which covers their basic needs and provides a decent standard of living for themselves and their families.

2. Reasonable working hours: ensuring workers are not forced to work excessive hours and are provided with adequate rest breaks and time off.

3. Safe and healthy working conditions: ensuring workers are provided with a safe and healthy working environment, free from hazards and risks.

4. No forced labor or child labor: ensuring workers are not forced to work against their will, and no children are employed in the production of apparel.

5. Freedom of association and collective bargaining: ensuring workers have the right to join a union and engage in collective bargaining with their employers.

By exclusively working with manufacturers in Bangladesh who comply with this code, we can ensure that the people involved in the production of our apparel are treated fairly and with respect.
Certifications & Labels

1. Oeko-Tex Standard 100: This certification guarantees that the materials used in the production of our partner company's apparel are free from harmful chemicals and substances. It's a globally recognized standard that ensures that the products you're wearing are safe for your skin and the environment.

2. Organic Content Standard (OCS) 100: This certification ensures that the organic content in the materials used in the production of our partner company's apparel is 100% organic. It verifies that the materials used are grown without the use of harmful pesticides and chemicals, and that they're processed in a way that's environmentally responsible.

3. Global Organic Textile Standard (GOTS): This certification guarantees that the materials used in the production of our partner company's apparel are organic and eco-friendly. It also ensures that the working conditions of the people involved in the production of the materials and the garments are safe and fair. The GOTS certification is a globally recognized standard that covers the entire textile supply chain, from the harvesting of raw materials to the labeling of the finished product.

4. Organic Content Standard (OCS) Blended: This certification ensures that the organic content in the materials used in the production of our partner company's apparel is at least 5% organic. It verifies that the materials used are grown without the use of harmful pesticides and chemicals, and that they're processed in a way that's environmentally responsible. This certification is for products that contain a blend of both organic and non-organic materials.

5. Global Recycle Standard (GRS): This certification ensures that the materials used in the production of our partner company's apparel are made from recycled content. It verifies that the materials used are processed in an environmentally responsible way and that they're free from harmful chemicals and substances. The GRS certification is a globally recognized standard that covers the entire supply chain, from the input materials to the final product.
Shop With Purpose & Make A Difference